Building a Trellis (Rule of Life) – Week 1: Rest
The following blog is meant to be worked through over a few days, or at a time when you have at least an hour to yourself. Feel free to come back to it again later in the week or later in this series.
Building a new trellis
This past week's message identified the fact that in all seasons of life – but most certainly in this one – we need to be constantly reoriented towards and reconnected to what matters most – relationships. One helpful analogy we suggested was that of "trellis & vine". A trellis is something that is not alive which helps something that is alive to thrive. It is not built for it's own sake or purpose, but to enable growth. The trellis needs to fit the nature of the vine it is trying to help grow. It is not meant to be so much bigger than the vine but just ahead of it. If it ceases to enable growth it can be taken down, changed, reconstructed.
When it comes to our lives, we need a trellis, a structure, in order to support and enable the vine – true spiritual vitality (relationship with God, ourselves and each other) to grow. Specifically, it's a plan or path that describes the activities in our lives which we engage in for growth.
One such trellis that many Jesus-followers have used for over 1000 years is called The Rule of Life. The Rule of Life consists of 4 buckets or key areas which, taken together, allow for relationships to thrive: Rest, Prayer, Relationships, Work.
You'll note that there is no "God" bucket. This is because God (and our relationship with Him) is not one aspect of life; it is the centre of our lives. This means that we work hard to see and experience God in all aspects of life, as the one who brings vitality and joy – we reject the notion that spirituality and life with God exists only in one corner or sphere, while work and school and food and sex and our leisure activities are unrelated. Rather, as author and pastor Peter Scazzero says, "each category is not just a way of thinking about things I need to do, but a means of receiving and giving the love of God."[1]
Over the next month we are encouraging you to take the time to slowly construct your own Rule of Life. Scazzero talks about how useful of a tool this can be: Keeping the four areas in balance prevents me from adding activities or commitments in one area that would prohibit me from maintaining my commitments in another. For example, I won't make a work commitment that would knock off balance my rhythms of rest, prayer, and relationships. I actually keep this diagram before me every time I consider taking on a new work commitment.[2]
This can seem like a daunting task, or foreign at least. If you're a structured personality, it may come naturally (but feel like just another set of plans to add to the list). If you're not, it can seem unnecessary or burdensome. Scazzero gives us some helpful encouragement and cautions as we undertake this task:
There are two common temptations that undercut leaders when it comes to following through on developing a Rule of Life. The first is to do nothing — to feel paralyzed and think, I could never do this! It's too limiting and overwhelming. The second is to do everything — to make too many changes all at once and then flame out after a month because they've crafted a Rule of Life that, while ideal, is impossible to follow in their current circumstances and spiritual condition. Let me caution you against giving in to the all-or-nothing temptations — or to taking a shortcut by trying to adopt my Rule of Life (or anyone else's) as your own. I have been adding and deleting items on my Rule of Life for more than thirteen years. If you are just beginning, don't try to tackle more Rule of Life than you can handle. Make a Rule of Life that fits who you are at this phase of your journey. It's important to start small and simple. Figure out how much structure you need in light of your personality and season of life — a lot or a little — and then build on it. [3]
So realize that this trellis needs to be constructed with the idea that it can change, be trimmed, some parts taken down and other parts built up. That said, the structure should be well-thought-through, carefully and comprehensively put together such that it works – it doesn't need to be changed on a weekly basis.
Working on your Rule of Life
The next two weeks you will be working on the Rest category and the Prayer category. As you begin take a few moments to become aware of Jesus' presence and invite Him to lead you in this process.
Here's the song that Jon and Michelle lead us in this past Sunday. It's a great place to start:
https://www.youtube.com/watch?v=-EixRP254PUhttp://
Now read Matthew 11:29-30, slowly (and out loud if you can). Read it again, listening for the words or phrase that most resonate with you. Ask Jesus to help you identify the specific things that are causing you to be tired and weighed down. Picture him lifting those things off you. Now ask him to teach you His way of living, working and resting. Ask him specifically to help you figure out what to put in this bucket.
Before working on your draft Rule of Life (see the template below), take some time to answer the following questions (adapted from Emotionally Healthy Leader):
What do you currently do that nurtures your spirit and fills you with delight? Consider people and places as well as activities. Write down everything you can think of. Your list may include gardening, walking the dog, being in nature, talking with close friends, cooking, painting, jumping out of airplanes, or any number of other possibilities. List them all. If you don't currently do much that nurtures your spirit, spend some time identifying some things you'd like to try.
What people, places, and activities do you need to avoid because they deplete you or make it difficult for you to remain anchored in Christ? This includes anything that negatively impacts your spirit — violent movies, hurrying, going beyond your limits, etc. Again, write down everything that comes to mind.
What "have to's" impact your rhythms in this season of life? For example, this might include caring for aging parents, raising a young child or a child with special needs, dealing with health concerns, or navigating a demanding season at work, etc.
Worksheet: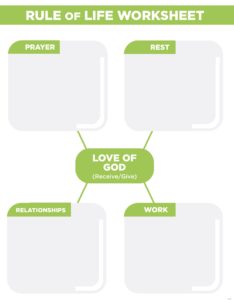 Having spent some time writing the answers to these questions, you are ready to start building a trellis for rest.
Start with what day of the week would be most suitable/possible for carving out a 24-hour period of "ceasing/stopping" your work. For many people, Sunday is a good place to start as it often is also the day on which you might join in communal worship with a church family. For those with shift work or weekend schedules, it may need to be another day.
As you think about this 24-hour period

Who might you want to see or be with (or not) on this day
When/how could you carve out some quiet or alone time with God (some of the activities from the prayer category next week can fit in here too)
What activities of delight, love and joy would you want to regularly include on this day
What things, though not evil or bad in themselves, might detract from your ability to rest, be aware of God and present with others?

Don't give in to the temptation to include too many things or generalize. Be as specific as possible (so that when you use it later it actually helps you make decisions on what to say yes or no to, how to plan a given Sabbath day). Remember that this isn't just about a weekly day, but daily, weekly, monthly and annual rhythms. As an example, here are the things in my Rest category:

Use "Day by Day" on a daily basis
4x/week exercise
Reading biographies
Sabbath day itself:

Time outside, reading my bible and sitting in silence
Biking, snowboarding, sports w/my kids
Limit/exclude: shopping, violent movies, staying up too late
No email or evening meetings
time to cook a nice dinner, see friends

2-week vacation every year
Remember, this is just the beginning. You can keep working on it as you try it out, learn more about yourself and talk with others. Save the date – Sept 27th – 7:30pm, to come to the seminar/webinar to ask your questions, learn more and refine your Rule of Life.
Now that you've taken a stab at a first draft, take a step back and consider the following questions:
What do you think will be your biggest challenge?
What is the one thing you sense the Holy Spirit directing you to start doing now?
What might be one thing you want to stop doing?
Is there someone you can invite to encourage you in making these change
[1] Peter Scazzero, The Emotionally Healthy Leader, p.136
[2] Scazzerro, Emotionally Healthy Leader, 136.
[3] Ibid, 138.