Helper Wanted – Gifts & The Body of Christ
Day 1: The Gift of the Spirit
Read Acts 2:1-41
This is the account of the day the Church was born – the day that the Holy Spirit was poured out on Christ's followers.  It was the day that a group of uneducated and discouraged young men were transformed into a community filled with the presence and power of God.
Bruce Larson, in his book Wind and Fire, puts it like this: "The symbols or signs of his presence were a powerful wind, blowing through the upper room, and tongues as of fire over their heads… Wind and fire, what appropriate symbols. Fire represents God's presence, and wind, His power. The Holy Spirit is the present tense of God, and these are the symbols of His presence and power in our lives."
 And so as the Holy Spirit's presence filled them, His power was unleashed through them.  They were given the ability to speak in languages not their own – the first example of a spiritual gift! — and Peter preached the Church's first sermon which was filled with so much power that 3000 people responded to the message of the Gospel that day.
It's incredible to realize that the gifts of the Spirit have been around since the very first day of the Church.
But what's even more incredible is that before the Spirit gave out any gifts, the Spirit Himself was given as a… GIFT.
Just before the resurrected Jesus ascended into heaven, he told his disciples: "Do not leave Jerusalem, but wait for the gift my Father promised, which you have heard me speak about.  For John baptized with water, but in a few days you will be baptized with the Holy Spirit." (Acts 1:4-5).
There are the gifts of the Spirit, and there is The Gift of the Spirit.  When the Spirit's presence comes, His power is unleashed.  The two go hand in hand.  So as we take some time over the next couple weeks to explore the spiritual gifts, our hope is that the Holy Spirit Himself will become a greater Gift to you.  That you will hunger first for the presence of the Spirit, and out of that grow in the power of the Spirit.  And that as the Holy Spirit does His work to make Jesus more fully known to you, He will encourage, equip, and empower you to make Him more fully known to the world around you!
Take a moment now to become aware of the Holy Spirit's presence with you and in you. Listen to this song and invite the Holy Spirit to fill you and lead you in your day ahead.
Write out a prayer, asking the Holy Spirit to do a fresh work in you – a work both of presence (being with you in unmistakable ways) and power (working through you to reveal Jesus to others).
Day 2: Gifts of the Spirit and the Body of Christ
One of the great landmines that the topic of spiritual gifts can lead us to is the idea that discovering and using our gifts is primarily an individual exercise.  We, like the Corinthian church, can easily turn spiritual gifts into something that makes them more about us than anything else.  We can use our gifts to achieve status and admiration.  We can explore the spiritual gifts as an exercise in "self-discovery".  We can discover our gifts to find personal identity and significance because it gives us something to offer.  We can see our gifts as a tool for power and personal gain.  But the gifts were never meant to be seen in any of these ways.
The Corinthians seemed to have an over-fascination with some of the gifts, and all but entirely neglected others.  Their spirituality was becoming increasingly defined by what gifts you had, and what gifts you could display.  Those who had "it" (i.e. certain, more coveted spiritual gifts) gained status within the community.  They were seen as truly "spiritual".  And so the gifts became about displaying and promoting self.  This led to self-reliance and pride for those who had certain gifts, and envy and insecurity for those who didn't.
Paul's correction to them was that, if we make spiritual gifts about the individual who "possesses" them, we will miss the power of the Spirit altogether.  Because the Spirit is not merely at work in us as a bunch of disconnected individuals.  Instead, the Spirit can be seen most clearly through the body – the whole community that is connected together in Christ.
Rather than making it about any one individual, we're meant to take a step back and look across the landscape of what the Spirit is doing throughout the whole body.  When we do, we'll see a host of living examples of healing, of practical help, of powerful teaching, of convicting prophecy, of faithful shepherding, of humble service.  We're meant to see so much goodness happening in unity with one another, on so many levels, that it will be impossible to give the credit to any one individual.
Individuals are fully involved to be sure, but this is a work of the Spirit.  We all offer ourselves as hands, and feet, muscles, and mouths – but it's the Spirit that brings the gifts together do something with truly powerful – to display Jesus.  We are His body, after all.
And it's as we engage with spiritual gifts in this way, that Jesus becomes more clearly seen and more fully worshipped in the world.  The Spirit acts as the great Conductor, pouring out the music of His gifts on us, and bringing them together with a harmony and beauty that is meant to quite literally, make Jesus visible.  When this is working the way it should, it'll never be about us.  His beauty and power will loom so large over the church that we won't be able to get in the way!
Have you ever been led to pride or envy because of a spiritual gift that you have or don't have?
Try doing this exercise. Write out ten different examples of how ten different people in the body of Christ have used their gifts to serve and bless others.  The examples could be as simple as the gift of helps to stack chairs, or as mysterious as the gift of prophecy to speak powerfully into someone's life.  Once you have your list of examples, take a moment, and imagine Jesus himself doing each of these actions in each of these examples.  Imagine Jesus serving humbly, speaking powerfully, caring compassionately, leading wisely.  Thank Him for showing up in the body in so many ways through His people!  Pray for our church – an expression of the body of Christ – that Jesus will continue to use us to reveal Himself to the world!
Day 3: Unity and Diversity
Read Ephesians 4:11-16
One of the major themes in the New Testament's teaching about spiritual gifts is unity.  The whole variety of gifts are meant to be worked out in the context of unity (vs. Self-centredeness and self-promotion), so that the whole church can be "built up until we all reach unity in the faith and in the knowledge of the Son of God…" (Eph. 4:12-13).  But what do we even mean by unity, and why is it so important?
First off, unity doesn't mean uniformity.  Jesus has never been about making spiritual clones.  Rather, we most fully express His multi-faceted love through the variety of personalities, strengths, talents, leanings, cultures, and languages that make up the church.  To be unified does not mean that we all think the same, look the same, act the same, or even want exactly the same things.  Rather, it's to be able to receive one another as loved member of God's family, in light of our differences, and to allow our differences to draw us closer to the heart of Christ.  Where else in the world can you find people together from every culture, background, language, body type, skill set, socio-economic background, and affinity – who call themselves, "FAMILY"?  Only God would do that!
Unity is easy when there is uniformity.  It's no problem for two identical cogs to fit well together.  It's no problem for twins' voices to blend well when they sing.  There's no miracle in that.  But unity is most powerful when there is diversity.  When we come together – all of us with different backgrounds, leanings, and talents – and learn to love well, respect and honour one another, cheer one another on in our victories, and mourn with one another in our losses, then we are doing something divinely inspired.
Unity is divine because it exists perfectly within the Trinity.  Father, Son, and Holy Spirit are a perfect example of unity within diversity.  Each Person of the Trinity is distinct, and yet they are so unified they share the same essence.  Each person of the Trinity carries out a particular role, yet they exist to delight in, glorify, and serve one another.  God cannot fully express himself through only one person of Trinity, but reveals a love and goodness that is so much greater, fuller, and nearer to us through all three persons.
Jesus prayed for the church that would come through the disciples ministry – that's us!
20 "My prayer is not for them [my disciples] alone. I pray also for those who will believe in me through their message, 21 that all of them may be one, Father, just as you are in me and I am in you. May they also be in us so that the world may believe that you have sent me. 22 I have given them the glory that you gave me, that they may be one as we are one: 23 I in them and you in me. May they be brought to complete unity to let the world know that you sent me and have loved them even as you have loved me.  (John 20:20-23)
Of all the things he could have prayed for, why did he major on unity?  Because there is something about it that reveals Christ for who He is.  If unity is real in the church, it means that we are allowing the Good News of Jesus to actually take root in our lives and relationships.  Unity will require that we learn to be people of love, forgiveness, reconciliation, peace, patience, servanthood, and self-sacrifice.  These are all things that Jesus has brought us through his death and resurrection.  Unity is so much more than a good feeling, and will always require hard work and difficult choices along the way.  It cannot be sustained in a community unless we are truly rooted in the unity that Jesus has given us with Himself through his death, resurrection, and outpouring of His Spirit.  So, if we are a people of unity, the power of the Spirit will be so strong amongst us that anyone who witnesses what is happening will know: there must be more to this Jesus than anything I've thought before!
Take a moment and think of someone in our church community who is very different than you – perhaps even someone who has rubbed you the wrong way or someone who you have a hard time naturally connecting with. Ask Jesus to show you or remind you: "What are some ways Jesus is at work in this person's life?  What are some ways this person is serving others to build up Jesus' church?"
Take a moment to express gratitude to Jesus for the way He is working in and through this person.  Thank Him for not just what they do, but who He has made them to be.
Pray a prayer of blessing over this person, and ask Jesus to continue to help you see this person the way He sees them, and to love them as part of His body.
Day 4: Gifts and Community 
Read Romans 12:3-8
One of the tricky things about spiritual gifts is that even though they're "gifts", they're not like just about any other gift we might get.  If I receive a gift from someone, it's for me!  I unwrap it to use and enjoy.  It would be strange – maybe even offensive – to unwrap a gift that was given to me only to give it away to someone else.
On the flip side, when I give a gift to someone else, I know exactly what's wrapped up in that box before anyone else gets to see it.
Spiritual gifts however don't work quite like this – in either the giving or receiving.
A spiritual gift may be given to me – but in a strange and beautiful way – it's actually not for me.  A spiritual gift given to me is always for someone else.  As Paul wrote, "If your gift is prophesying, then prophecy (to others)… if it is serving, serve (others); if it is teaching, then teach (others); if it is to encourage, then give encouragement (to others); if it is giving, then give (to others) generously… and the list goes on, but you get the idea.  Gifts are given to us, but always for the benefit of others.
And on the flip side, when you or I have a spiritual gift to give, we are often not the first ones to see it.  We don't always know what gifts the Spirit has wrapped up within us.  It's often others in Christ's body that recognize our spiritual gifts before we do.  They experience our encouragement.  They receive our practical care.  They benefit from our wisdom.  They are blessed by our generosity.  It's not always easy to know when or how the Spirit is at work through us, but others know.  Because for them, it's a gift from God.
Why does all this matter?  It matters, because it means that spiritual gifts only work when we're in community.  They're meant to be experienced and recognized by others.  And as that happens, the generous grace of Jesus is spread beyond ourselves, continuing to infect the world with His love.
Reflect for a moment. Who is someone that you have been blessed and built up by because they have used their spiritual gift(s) for you.  Take a moment and pray that the Spirit would continue to empower them to joyfully and fruitfully use their gifts.  Now, write them a note to let them know how their gift has blessed you and how God has worked through their life.
Day 5:  The Way of Love
Read: 1 Cor. 13:1-13
What could have been Paul's great inspiration for this chapter, one of the most rich and eloquent passages in all the Scriptures?  Was it a romantic interest?  Was it a wedding he had just come from?
Well, actually, it was a conversation that was going on in the Corinthian church about – you guessed it – spiritual gifts!
This chapter – the love chapter – lands smack dab in the middle of a section (chpts. 12-14) where Paul is addressing some pretty distressing attitudes that the Corinthian church held regarding the gifts.  They were acting as if the gifts were the goal.  And particularly, certain gifts – like "knowledge" – were seen to be the ultimate goal.  These gifts were what everyone wanted.  Because if you had them, it meant you had power, influence, and clearly were blessed by God.
But Paul tells them, "You're missing the point entirely if this is what you think!  Spiritual gifts are great.  But they're not the goal.  They're not the thing that we should be aiming for.  They're simply tools that help us reach the goal – to love."
If we use the Spirit's gifts and forget why they've been given in the first place, then it can actually cause more harm than good.  We can possess all the knowledge.  We can have all the faith.  We can give everything we own away.  And, without love, these incredible feats are nothing more than clanging cymbals.  What a gong show, Paul says!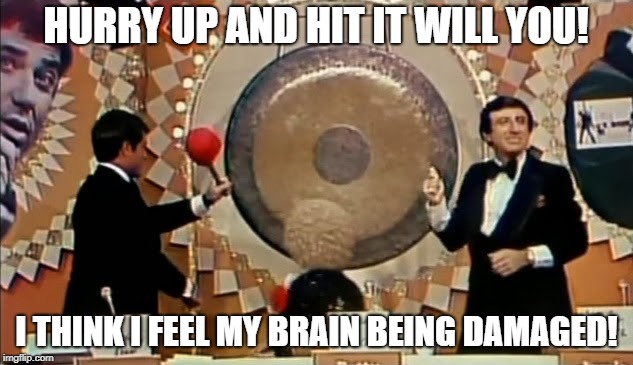 Paul reminded the community that spiritual gifts are only a means, not an end.  And in fact, at least some of them won't even always be needed.  They'll eventually pass away altogether (vv.8-10).
But what will remain – both now and then – is love.  Because it's the greatest goal.  It's what Jesus has done for us, and it's what He calls us to do for one another.  Because God is love.
So as intriguing as it is to explore and understand all the spiritual gifts, let's remember to not fall into the trap that the Corinthians did.  Let's keep love as our goal, and aim our gifts in that direction.  As we do, that will be a great thing, because love is the greatest indeed (v. 13)!
Take a moment to reflect on any of the ways you are serving or contributing in the life of our church community. Is the love of Jesus fueling your service for others these days?  Take a few minutes to meditate on Jesus' love for you (1 Cor. 13:4-7 is a wonderful description of His love for us), and receive His love into your heart.  Ask Him to fuel you with His love for others, and to energize the ways you serve out of His love.  Ask Him if there's anything He wants you to do to respond.